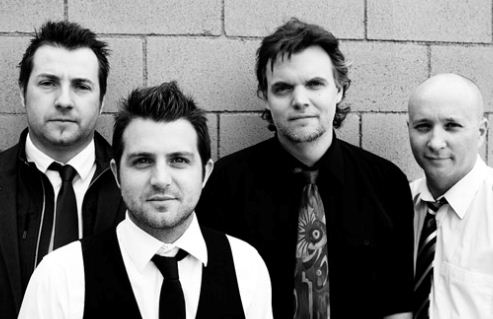 Associates Music from the 80's, 90's & Now

Every so often a fresh sound blasts its way into the music scene and brings a pleasant surprise to your ears.
Such are the sounds of this band.

Blend together 4 seasoned musicians at the top of their field, with the youthful sounds and enthusiasm of an outstanding
male vocalist on acoustic electric guitar, mix it together with the best musical material being played on
lead guitar, bass and drums and you have captured the professionally delivered sounds of this band.

Whether the crowd wants to dance, boogie, party and rock and roll all night long or prefer a nice blend of soulful dinner or background music, this is the band to give you what YOU want.

Fronting this band is the rising star and remarkably talented Brian C.

This band effortlessly and impressively present a blend of hit songs selected to suit the audience, ranging from
Robbie Williams, The Beatles and Maroon 5 through to classic party favourites
and even the full -on rock of Wolfmother and Blink 182, if appropriate.
SONG LIST
Save Tonight, Wish You Well, Mr Jones, Holly Grail, Talkin about a revolution, Hurt So Good, Steal My Kisses,
Whats Up, Shimmer, 500 miles, Kryptonite, Wonderwall, I was Made For loving you, Brown eyed girl,
You spin Me right round, Sex on Fire, Khe Shan, Proud Marry, Harder to Breath, Let Me Entertain You, Jessies Girl,
Blister in the Sun, Sweet Home Alabama, Summer 69, Stuck in the Middle, Centrefold, Take on me, Blame it on the Boogie
Long Train Running, Shake your Booty, Play That Funky Music, Funky Town, Superstitious, Billy Jean, You shook me all night
Mustang Sally, Aint no Sunshine, Message in a Bottle, Unchain my Heart, Sign Sealed Delivered, Jack and Dianne, Down Under,
April Sun, 3am, Daughter, You Really Got Me, Eagle Rock, I Got You, Tainted Love, Mr Bright Side, All the Small Things,
I Believe in a Thing called love, Joker And Thief, Damnit, Hitchin A Ride, Breakfast At Tiffs, Whats my Scene, Never Tear Us Apart,
Dumb Things, All for you, Two Princes, Sunday Morning, Let Her Cry, Crazy, Last Kiss, Only wanna be with You,
Feeler, Drive, Creep, Wicked Games, Walking Away, Is this Love, Lightning Crashes, Fall at your feet
And Many Many More …………………
Email Us Phone: 1300 666 286