Alan Casey Entertainment Agency - Australia
Brisbane - Sydney - Melbourne - Gold Coast - Sunshine Coast - Toowoomba - Ipswich - North Coast
New South Wales - Queensland - Victoria - South Australia

Ph 1300 666 286 International 61 + 422 434 014



With well over 15 years of experience & knowledge in the entertainment industry, Jerry is more than ready to assist you at your next event. This is not just a business to me….it's a Passion!! I simply love what I do!!!
I provide entertainment for Weddings, Anniversaries, Holiday Parties, Corporate Functions, Beach and Pool Parties, School Disco's, High School Formals and don't forget about backyard B-B-Qs, Pig Roast, Birthdays,
Hawaiian Luaus and much much more. Oh, and did I mention – You can even add Karaoke to your event!!,
When planning your next event, think Sincerity, Quality, Honesty, Integrity, Reliability & Lots of Fun.
Let me take the burden from you and serve as your master of ceremony, event coordinator, formal announcer, sound technician,
event planner, as well as a caring individual dedicated in making your day a Huge Success!!
So what are you waiting for? If it's a professional & experienced DJ you're looking for, look no further just GET DOWN with DJ JERRY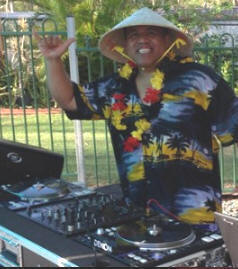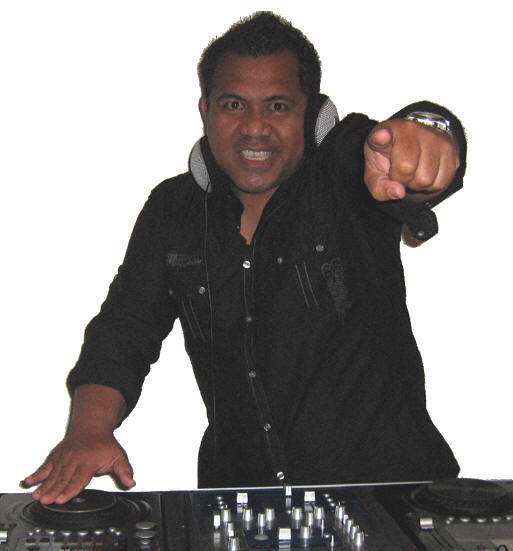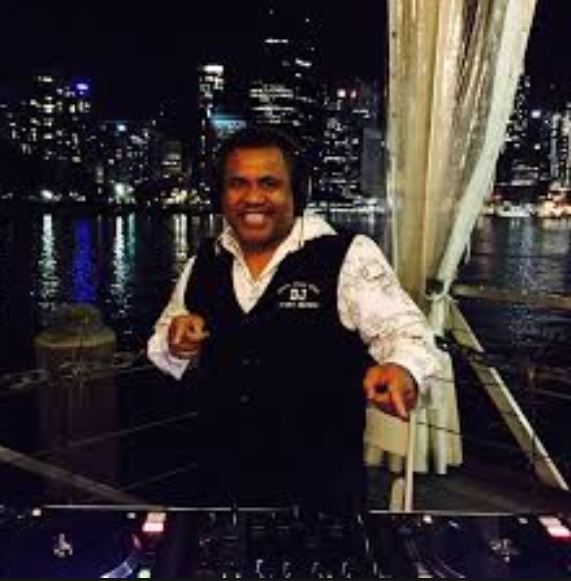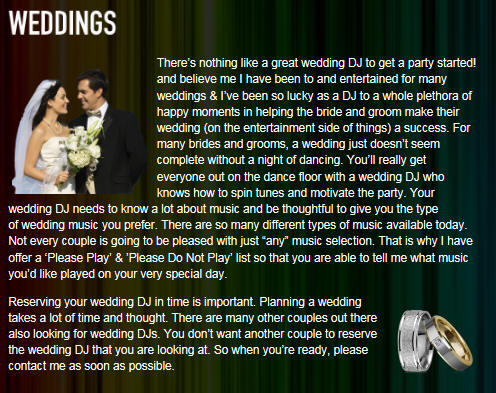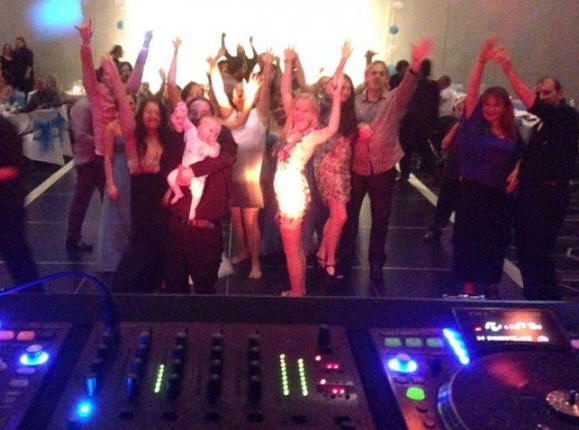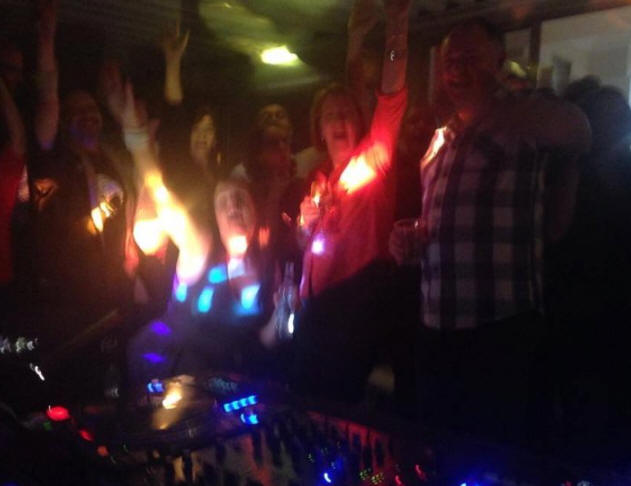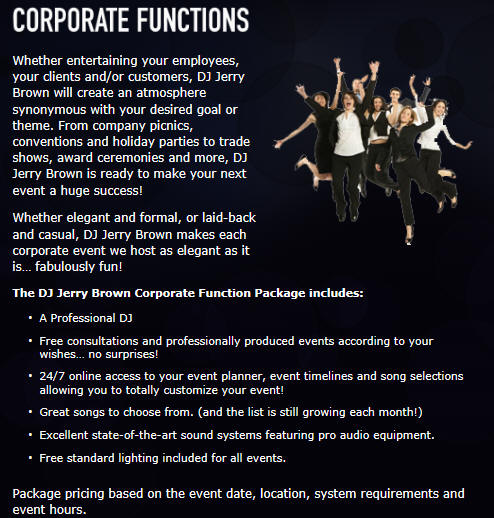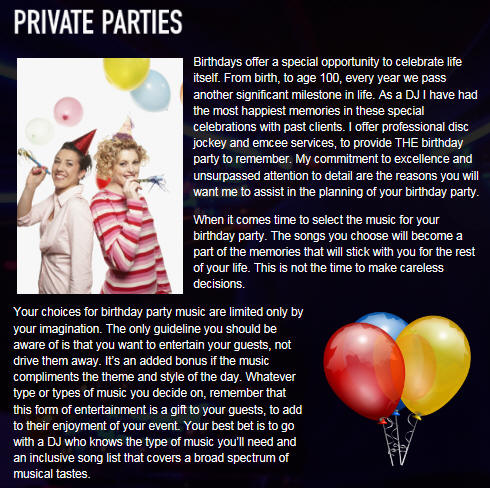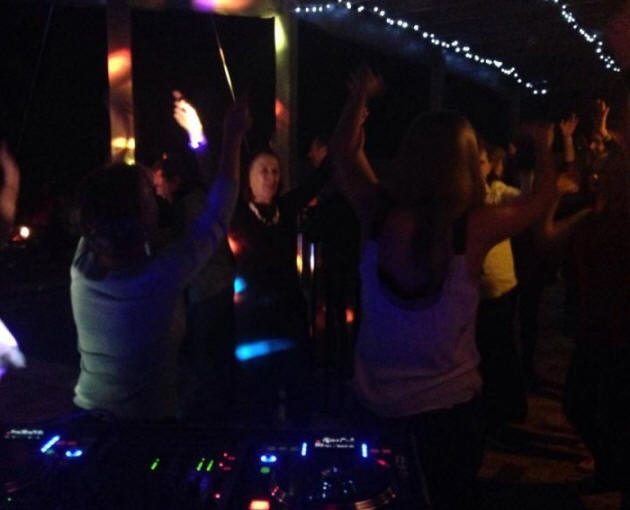 Comments from Clients
Just wanted to say an official 'Thank You' for the fantastic job that you did of being DJ at our wedding. You were highly recommended by our friends Jane and Ronan and we now know why! You paid great attention to our song list and played everything we wanted, you were great fun – all our family and friends commented on how you got so involved in the evening and the whole process of organising you as our DJ was so easy. We certainly had no worries at all that you would be reliable and professional, and you did not disappoint. We will certainly not hesitate to recommend you to others and to use your services again in the future should we need a DJ. Thank you for making our day so memorable.
Kind regards, Katie and Matt x
Many thanks for your great music and entertainment on our wedding night. I hope you enjoyed the night as much as we did.
Many people commented on how impressed they were with the music and there were certainly plenty of people of all ages up dancing. We also thank you for your kind words. I personally enjoyed the dancing but also the music earlier in the night.
One final thanks for your marriage dance. I must admit we were a little surprised at first. Given that we are not from NZ, we probably didn't appreciate the true cultural significance until later when several NZ friends at the wedding commented how special this was. So once again, thank you for your attendance and efforts.
Kind regards, Michael and Francene
Just wanted to say a huge thank you for Friday night. You are without a doubt the absolute BEST DJ I have ever seen.
Our night was made so much better with you in it and I can't thank you enough.
We'll definitely be using your services again and I will be recommending you without hesitation.
I know a few of the people there on Friday night are already planning on contacting you to book you for their upcoming weddings etc.
Thanks so much again Jerry – you are fantastic. Cheers Wendy & Zahra x
How are you? Thanks for being the best DJ ever at our wedding! People loved you heaps. Here are some pics from the photobooth for you.
Thanks again! Kate & Jamie Mills x
I wanted to tell you what a fantastic DJ you are. You were one of the biggest highlights of our wedding experience
and all our family and friends thought you were a legend.
As you know a well known DJ company let us down prior to finding yourself – we have never felt so lucky as if they hadn't been so useless
we would have never met you!!! If we ever need a DJ in the future there where be no research we would be straight on the phone to you.
Anyone reading this testimonial look no further, this guy is AWESOME!!! All our love and best wishes Jane & Ronan
Thank you so much for yesterday. You did an AWESOME job. Everyone commented how excellent DJ Jerry Brown was.
The variety of music was excellent. Thank you for making our special day perfect. Regards Andrea & Luke
I know it has been a few weeks but WOW, we had a fantastic wedding day, made all the more special with your kind help. Thank you so much for all your efforts. We have had so many comments from guests saying they just loved our DJ. You were a real hit!
Good luck in the future. If we know anyone who needs a DJ we will DEFINITELY recommend you. Thanks again D & K
Sorry for not getting back to you earlier

just wanted to thank you (times a million) for making our day more memorable with awesome entertainment you provided for us and our guests. You were so easy to work with and so helpful to both T & I and we look forward to hiring you again and will most definitely recommend you to anyone else. Thanks heaps Jerry. Take care E & L
just wanted to thank you personally for making my birthday party so special!!! You were such a special part of the night and the love,
energy and passion you put into your work is just gorgeous! Everyone was talking about you after the event,
and I know a lot told me they got your card. I know you will get more work from that night which warms my heart.
Thank you for sharing your gift with us that night, you are a very special soul. Fleur xx