Alan Casey Entertainment Agency - Australia

Brisbane - Sydney - Melbourne - Gold Coast - Sunshine Coast - Toowoomba - Ipswich - North Coast
New South Wales - Queensland - Victoria - South Australia

International 61 + 422 434 014 Ph 1300 666 286
Can Can Dancers
Cost for performances vary depending on - Number of dancers required - Number of routines - Time, Date & Location of performance - Production required etc.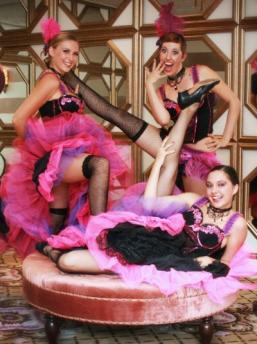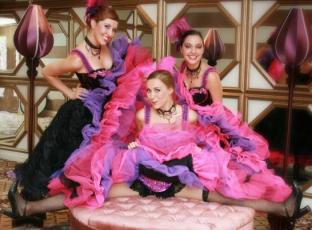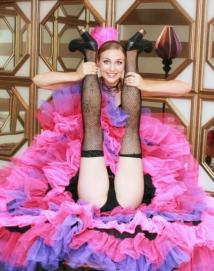 Lovely ladies will transport your guests to Turn-of-the-century Paris as they delight with an entertaining Can Can stage routine.

Featuring traditional Can Can orchestral score as well as music from the modern Moulin Rouge movie,
This act delivers all the high-kicking, side-splitting shenanigans you would expect from these Can Can showgirls of the Moulin Rouge.
Format: 7min stage routine (performers can add roving character component for longer durations as requested)
Team: Can Can dancers Requirements: clear stage/performance space plus sound system for CD backing & stage lighting.

Other options:
The same dancers can also perform other routines in Moulin Rouge theme...
White feather fan dance - Cotton Candy hula-hoop routine - Diamonds are a Girl's Best Friend dance routine - Cabaret/Chicago-style dance routine in a range of different costumes. Very reasonable rates for additional acts in the same night. Stage Routines range from 3-6mins. Roving character set up to 30mins.
Moulin Rouge Show - Brisbane From $3400 +GST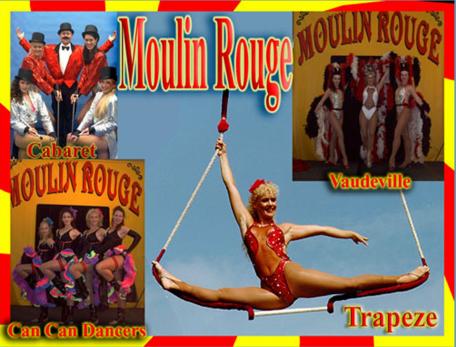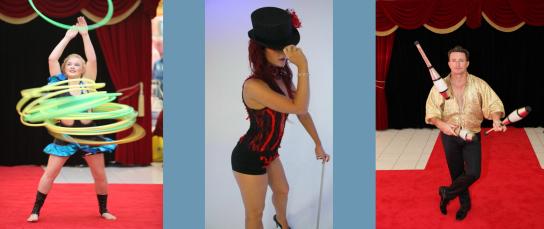 5 person Moulin Rouge show to include 4 dancers and one male ringmaster with 2 speciality acts like the amazing magic sub trunk illusion box and contortion/acro.
With 2 singing numbers like Lady Marmalade and Diamonds, from the sound track accompanied by dancers​ and also the famous can can. |
Including rehearsals, rigging equipment and costumes etc. From $3400 +GST
6 person performance same as above but having more impact with another dancer and also including an aerial act as well choreographed with dancers. From $ 4200 +GST
Cheeky French Entertainment - Sydney


Moulin Madness From $6500 +GST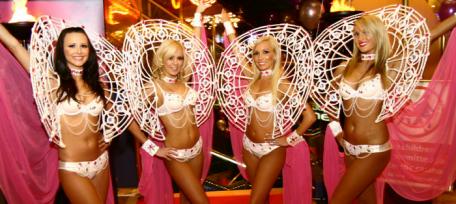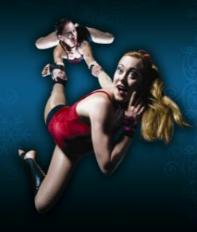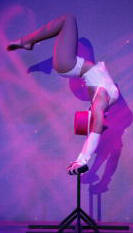 Moulin Madness is a production inspired by the romance, mystery & thrill of the world's most infamous play house.
Beginning with a stunning Aerial Ring routine by our talented Aerial Angel,
this production also showcases the amazing skill of our gorgeous contortionist.
In dainty stilettos and stunning style, our burlesque contortionist is bending the bounds of possibility at events around Australia.
Together with our sublime showgirls & Can Can dancers, she performs a completely choreographed routine combining
elegant maneuvers & seemingly impossible twists & bends.
Strength, grace, beauty and poise are all embodied in our finale aerial act, Settalite, as they perform in a cradle of fabric, a double tissu.
A stunning juxtaposition of classic lines and contemporary form...
Precision timing yields perfect synchronicity in this sensuous aerial ballet choreographed to Lady Marmalade.
Show Duration: 20 minutes Performers: 6 (2 x Aerial Angels, 3 x dancers, 1 x contortionist) Acts include: Stage show in a Moulin Rouge theme