Alan Casey Entertainment Agency - Australia
Brisbane - Sydney - Melbourne - Gold Coast - Sunshine Coast - Toowoomba - Ipswich - North Coast
New South Wales - Queensland - Victoria - South Australia

Ph 1300 666 286 International 61 + 422 434 014

Frazer Goodman - Solo Entertainer (Brisbane - Australia)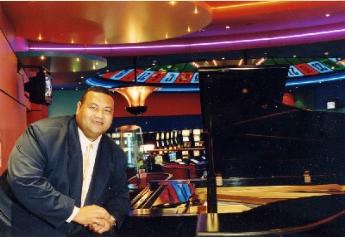 Prices subject to date, time & location of event

Having honed his skills as a singer-songwriter/backing musician on the streets of Asia, New Zealand and Australia
Frazer has been entertaining crowds upon crowds with his charming personality and smooth vocals,
which has been described as "timeless and soulful, yet raw and energetic".
His ear for melodic twists, and intuitive jazz blues soul inflections have led him on a song writing journey
since going solo in early 2011. Elements of jazz, soul, reggae, blues roll effortlessly through the Frazer's repertoire,
united by genuine song-craft that celebrates love, beauty and life's most treasured moments. And at the heart of it all is that voice, hammond organ and keys – a smooth, sultry and smoky blend evoking past greats such as
Jimmy Smith, Lou Rawls, Ray Charles, Charles Brown & more.
A very gifted professional Jazz & Blues singer entertainer and recording artiste. Equally adept at contemporary jazz as he is with straight-ahead jazz standards, Frazer is always pulling surprises during his performances.