Alan Casey Entertainment Agency - Australia
Brisbane - Sydney - Melbourne - Gold Coast - Sunshine Coast - Toowoomba - Ipswich - North Coast
New South Wales - Queensland - Victoria - South Australia

Ph 1300 666 286 International 61 + 422 434 014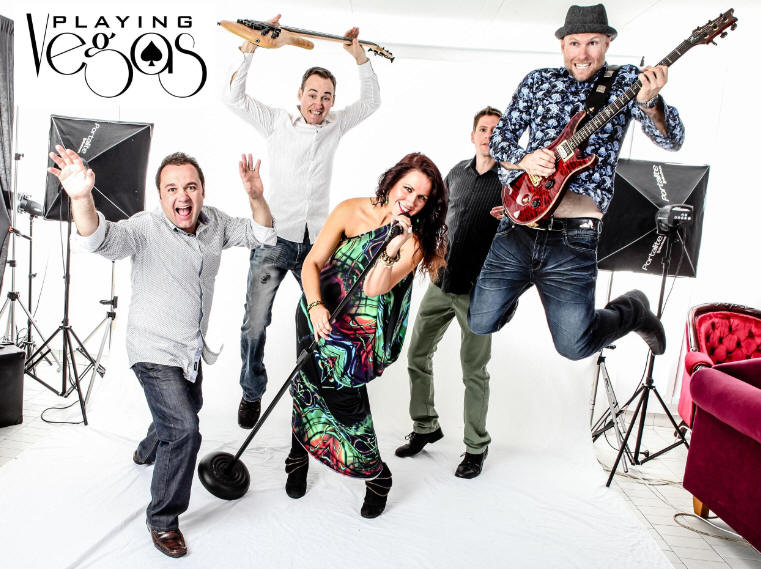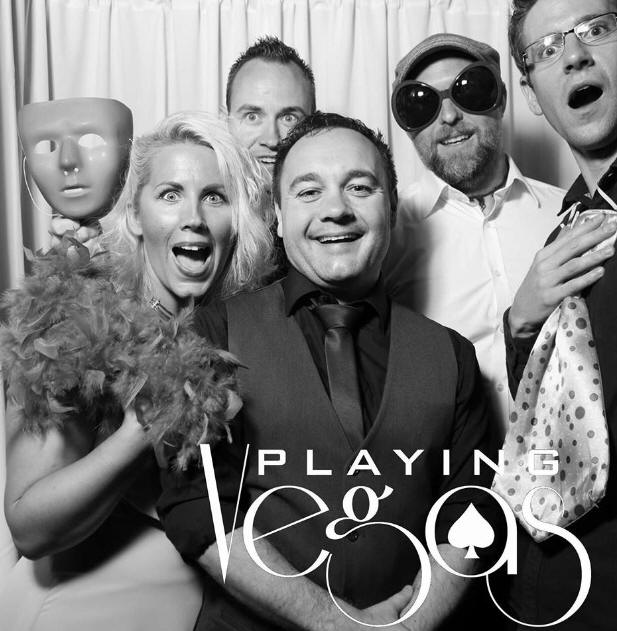 Paying Vegas
Party Band Latest Covers to Greatest Hits & Past Decades
Price subject to date, time required, location of event


Playing Vegas is a well-established professional function band consisting of highly talented musicians from
Queensland's Sunshine Coast & Brisbane area.
Specializing in contemporary and classic chart music of all styles, with the right mix of modern and retro classics, this dynamic entertainment powerhouse is available for Corporate Events, Weddings, Parties and Private Functions.
Since forming in 2010, Playing Vegas has been devoted to complete audience satisfaction. Offering a musical repertoire to suit all generations, they ensure a packed dance floor whatever the event. Seeing themselves as a vital component of any successful event has ensured both longevity and accomplishment in a highly competitive industry. Their dedication and attention to detail has enabled this vibrant and energetic band to remain one of the country's premier function acts.
Playing Vegas is a 5 piece band fronted by a powerful female vocalist and backed by four talented musicians each with
a strong vocal presence. Their solidarity as a team, on and off stage, has paved the way for their successes to date.
Their diverse set list combines the talents of both male and female vocalists with outstanding musicianship
Playing Vegas has entertained many satisfied corporate clients and have performed at a large number of wedding functions, private parties and charity events in Australia's illustrious venues. Entertaining is a lot more than playing an instrument.
It's about reading an audience and engaging them in the performance.
Thinking of booking Playing Vegas for your wedding or function (?) Then why not attend one of their free showcase nights or
public performances. Every month they perform a short evening of entertainment to showcase their talents,
the location of which is rotated each month.
Brisbane - Ipswich - Toowoomba - Gold & Sunshine Coast - Queensland
Song List - New song added each Month
500 Miles – The Proclaimers
Addicted To You – Adele
All Fired Up – Pat Benatar
All My Life – Foo Fighters
All Night Long – Lionel Richie
All The Small Things – Blink 182
Always On The Run – Lenny Kravitz
Am I Ever See Your Face Again – The Angels
Another One Bites The Dust – Queen
April Sun – Dragon
Are You Gonna Go My Way – Lenny Kravitz
Bad Moon Rising – Ccr
Better – Screaming Jets
Better Man – Pearl Jam
Billie Jean – Michael Jackson
Blame It On The Boogie – Jacksons
Blister In The Sun – Violent Femmes
Blurred Lines – Robin Thicke
Bohemian Rhapsody – Queen
Breakfast At Tiffany's – Deep Blue Something
Bring Me Some Water – Melissa Etheridge
Brown Eyed Girl – Van Morrison
California Girls – Katy Perry
Call Me Maybe – Carly Ray Jepson
Canned Heat – Jamiroquai
Cool For The Summer – Demi Lovato
Chasing Pavements - Adele
Crazy Little Thing – Queen / Elvis
Creep – Radiohead
Dammit – Blink 182
Desire – U2
Diamonds – Rihanna
Domino – Jessie J
Don't Hold Back – The Potbellez
Dreams – Fleetwood Mac
Early Warning – Baby Animals
Faith – George Michael
Fly Away – Lenny Kravitz
Forget You – Cee Lo Green
Freefalling – Tom Petty
Funhouse – Pink
Funky Music
Get Lucky – Daft Punk
Girlfriend – Avril Lavigne
Give Me A Reason – Tracy Chapman
Go Your Own Way – Fleetwood Mac
Great Balls Of Fire – Jerry Lee Lewis
Hadn't Been For Love – Adele
Happy – Pharrell Williams
Happy Together - The Turtles
Harder To Breathe – Maroon 5
Heavy Cross – Gossip
Hella Good – No Doubt
Hello- Adele
Hit Me With Your Best Shot – Pat Benatar
Horses – Daryl Braithwaite
Hotel California – The Eagles
Hound Dog – Elvis
Hurts So Good – John Melloncamp
I Feel Good – James Brown
I Wanna dance with somebody- Whitney Houston
I Will Survive – Gladys Knight
I Wish - Stevie Wonder
I'm A Believer – The Monkees
I'm Just A Girl – No Doubt
Jessie's Girl – Rick Springfield
Johnny B Goode – Chuck Berry
Keep Your Hands To Yourself – Georgia Satellites
Khe Sahn – Cold Chisel
Kiss – Prince
Last Kiss – Pearl Jam
Layla – Eric Clapton
Lazy Song – Bruno Mars
Let Her Go – Passenger
Light My Fire – The Doors
Living On A Prayer – Bon Jovi
Locked Out Of Heaven – Bruno Mars
Lonely Boy – Black Keys
Long Train Running – Doobie Brothers
Love Rears It's Ugly Head – Living Colour
Loveshack – The B52's
Marry You – Bruno Mars
Master Blaster – Stevie Wonder
Middle – Jimmy Eat World
Moloko - Sing it back
Moondance – Van Morrison
Mr Brightside – The Killers
Mr Jones – Counting Crows
Mr Know It All – Kelly Clarkson
Mustang Sally – The Commitments
My Sharona – The Knack
Mystify – Inxs
Never Tear Us Apart – Inxs
Nutbush – Tina Turner
Old Time Rock N Roll – Bob Segar
On Broadway - George Benson
One Summer – Daryl Braithwaite
Paint It Black – The Rolling Stones
Paradise City – G'n'r
Place Your Hands – Reef
Play That Sax – Fleur East
Please Don't Stop The Music – Rihanna
Pricetag – Jessie J
R U Gonna Be My Girl – Jet
Raise Your Glass – Pink
Rather Be – Jess Glynn
Rhiannon – Fleetwood Mac
Riders Of The Storm – The Doors
Roar – Katy Perry
Rock N Roll – Led Zeppelin
Rolling In The Deep – Adele
Royals – Lorde
Rude – Magic
Rumour has it - Adele
Run To Paradise – The Choirboys
Satisfaction – The Rolling Stones
Save Tonight – Eagle Eye Cherry
Saw Her Standing There – Beatles
Scar – Missy Higgins
Set fire to the rain - Adele
Sex On Fire – Kings Of Leon
Shook Me All Night On – AcDc
Skyfall - Adele
Small Things – Blink 182
Somebody I Used To Know – Gotye
Somebody Told Me – The Killers
Someone Like You – Adele
Son Of A Preacher Man – Dusty Springfield
Soul Sister – Train
Stand By Me – Benny E King
Steel My Kisses – Ben Harper
Still Haven't Found – U2
Stuck In The Middle – Stealers Wheel
Suck My Kiss – Rhcp
Summer 69 – Bryan Adams
Sunday Morning – Maroon 5
Superstar – Jamilia
Superstition – Stevie Wonder
Sweet Child O Mine – G'n'r
Sweet Home Alabama – Lynard Sknyard
Tainted Love – Living End
Take Me Out – Franz Ferdinand
Teenage Dirtbag – Weezer
Thinking Out Loud – Ed Sheeran
This Love – Maroon 5
Time Warp – Richard O' Brian
Titanium – Sia
To Her Door – Paul Kelly
Tribute – Tenacious D
Twist N Shout – Beatles
Ufo – Sneaky Sound System
Umbrella – Rihanna
Unconditionally – Katy Perry
Uptown Funk – Bruno Mars
Use Somebody – Kings Of Leon –
Valerie – Amy Winehouse
Walking On Sunshine – Katrina & The Waves
Water under the bridge - Adele
We Are Family – Sister Sledge
What I Like About You –The Romantics
What's Up – 4 Non Blondes
When we were young - Adele
Who Knew – Pink
Wish You Were Here – Pink Floyd
Won't Back Down – Tom Petty
Wonderwall – Oasis
You Oughta Know – Alanis Morisette
You Really Got Me – The Kinks
You're The Voice – John Farnham
Zombie – Cranberries
Email Us Phone: 1300 666 286