Alan Casey Entertainment Agency - Australia
Brisbane - Sydney - Melbourne - Gold Coast - Sunshine Coast - Toowoomba - Ipswich - North Coast
New South Wales - Queensland - Victoria - South Australia

Ph 1300 666 286 International 61 + 422 434 014
Savvy Duo, or choice of 3p, 4p, 5p or 6p Band
R&B, Pop, Dance, Disco, Rock, 50's, 60's, 70's, 80's and 90's Classics through to latest Top 40 Hits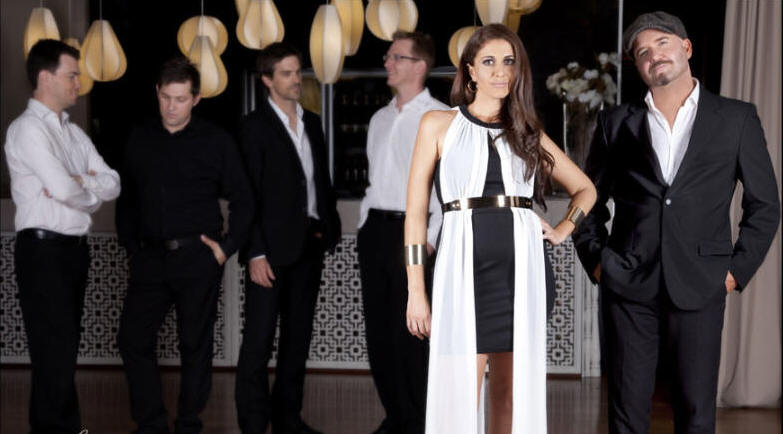 Gold Coast - Brisbane - Northern NSW - Sunshine Coast - Queensland

Under the musical direction of Toby Loveland, this accomplished band consists of musicians at the top of their field.
No matter what the event, this selection of skilled performers appeals to all audiences
and are adept at playing for every occasion.
Of course it's not all about sounding good. Visually the band delivers an energy and enthusiasm unsurpassed.

Baz Luhrmann, Australian Movie Director:
"The ultimate wedding band . . ."

Ian "Dicko" Dickson, Australian Idol Judge:
"Great song selection, they had me dancing all night!"

Pat Welsh, 7 News Personality:
"If you've been in Brisbane for the last 5 minutes then you will have heard of
Savvy, they're absolutely fantastic!"

Natalie Corkhill on behalf of Daniel (Savage Garden) and Kathleen (Hi-5):
"On behalf of Daniel and Kathleen, and everyone at the wedding on Sunday, we
just wanted to say a massive THANK YOU. You guys were absolutely awesome
and perfect for the occasion. We had so many comments throughout the
night, so again, thank you for doing your thing the way you know how. It was fantastic!"

Ambiwerra Festival:
"In true party band style, it was a great way to cap off a great day. Savvy's energetic performance engaged the crowd in a celebration to end the festival in style."

Lady Mayoress' Ball, Brisbane City Hall:
"The only complaint I have is sore feet from dancing...Savvy were such a great hit!" - Lady Mayoress, Lisa Newman

New Years Eve Ball, BCEC:
"Congrats on an excellent job last night. The band sounded fantastic - the dance floor said it all!" - Brett Annable

Catherine Lubans, Hedgehog Events:
"Just a quick note of thanks for your performance at the Education Forum last night – I really enjoyed your dinner set and then the band's transformation for dance music later in the evening.
You really got the crowd on their feet!"

Angela Morrisby, Straight 2 Events:
"Thank you - It does not seem quite enough of a word – fabulous, fantastic and
all other adjectives rolled into one! The feedback from Saturday night has been extremely positive and certainly if you live by the motto " you are as good as
your last event" then you are all STARS."