Letters of Thanks from Brides


Hi Alan
Chris and I would like to thank you for the fantastic job the band (the Hippos) did on the weekend.
We had some fantastic feedback re their performance
All the best
Sarah & Chris Jones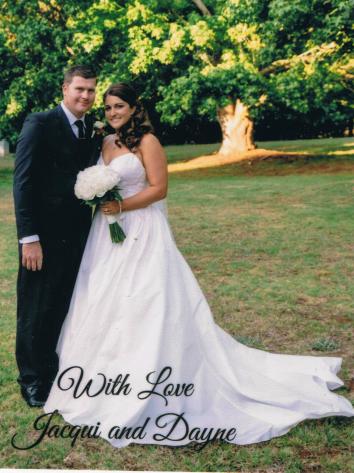 Hi Alan
We are both so thankful that you could be part of our Wedding Celebrations as our MC
Hi Alan
We would like to extend our thanks to the band for playing
great music at our wedding,
It was really entertaining, and the guys were talented!
Wish the band luck and success
in the future - God bless
Regards Joseph Lorensyah
(Harry Lyn Jazz Band)
Thank you for the night as far as Mel & I are concerned there was not one thing that went wrong.
We will speak of the night for a long time and the music tops.
A lot of people commented that
the music variety was A-grade.
Once again thank you and we will recommend your DJ Mike to anyone.
Steve & Melissa Henwood.
(Mike Sam DJ)
I am writing to thank you for
the excellent DJ (Greg) on the
night of my Wedding.
It was absolutely perfect on the day, I was extremely happy with his service.
Once again please thank him for making my day so special.
Inge Foley
We have just come back from
our honeymoon and we would
like to say thank you so much.
The music was perfect, Mike played all of our favourite songs and everyone was able to have
a dance. I will forever be recommending your DJ services.
Tracey Wright and Cameron Armstrong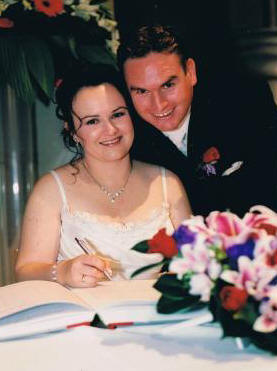 Dear Alan
our Wedding was more perfect than we could have imagined
Thank You for sharing our reception with us and for your contribution as MC
You did a great job!
Here is a photo of Lyndall and I
to remind you of our special day
Gareth & Lyndall Capland

Hi Alan,
We were very impressed with
the performers you sent to us.
The DJ and the Piano package were the perfect combination
and made the reception
very memorable.
Chris (Pianist) created a warm
and comfortable atmosphere
during the dinner.
Henry (DJ) was great and was
so in tune with our guests, that the dance floor was always full.
Many guests said it was the best reception they had ever been to. Thank you so much and we would certainly recommend your services Kevin & Enid Lacey
Dear Alan & Eric
I Just wanted to write you
a quick Thank You in advance.
You guys have been amazing to deal with and I really appreciate your professionalism and understanding
of our taste in music
To Me the music is the most important aspect of any event. especially my wedding.
So I am really excited to see what you guys have in store for us
Thank You Again
Carolyn Jones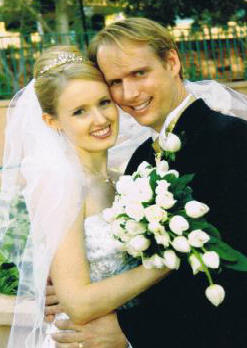 We wish to thank you for organizing such wonderful entertainers for our wedding.
String Quartet (Danielle)
Piano Player (Chris)
DJ (Alex)
Magic Illusionist (Glenn)
Fire Act (Cindy)
All were very professional and provided a lot of enjoyment
for us and our guests on the day.
We wish to extend our sincerest
Thanks on to each Entertainer
Best Regards
Angie & Luke Trouchet
Kyle and I would like to thank
you for providing the
Live DJ (Todd)
as our wedding entertainment.
He was fantastic and our guests loved his friendly nature.
His live performance was a hit
and the dance music he chose
was perfect!
We were very happy with your service and Todd's appearance and would recommend you
to other friends getting married.
Thank you
Kelly & Kyle Mills
Paul and I would very much like
to thank the DJ (Greg) for an entertaining evening of music
plus some fun games at our Wedding.
We loved the Grease Megamix karaoke and Nan hasn't stopped talking about the balloon game.
Kind Regards
Paul & Michaela
Thank you for organising
Tangerine Jam
for our daughters wedding.
They were just sensational.
Totally professional, very approachable and just a lovely couple. We would recommend them to a
nyone for any function.
Cathy & Des Calthorpe
Just wanted to thank you for
the Harpist (Nicole)
Everyone of our guests
commented on how wonderful
she was and it really set the scene
I am so glad I decided
to go through your company.
She was excellent.
Kelly & Chris Beattie.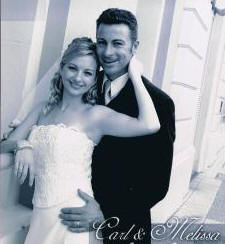 Thank You so much for your
help on our wedding day.
We were both very pleased with the atmosphere you helped create
Melissa & Carl
We can't thank you enough
for the band (Deux Femmes)
Who played at our
ceremony & reception.
We have had so many comments for our guests, saying how awesome they were.
Sara & Michael Ralph
The Band (Maqus) was the highlight of our wedding reception! Everything about the group
was awesome - their look, their attitude and especially their sound! They played a great selection of music
which was appropriate for the different parts of the reception and our guests had a ball dancing
to all their favourite songs.
We would highly recommend them to anyone wanting to provide exceptional live entertainment.
Emma & Stewart Flemming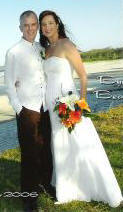 We can't thank you enough for
the music Deux Femmes played
at our Ceremony & Reception.
We have had so many comments from our guests, saying how awesome you were.
We have it all on video so we will be replaying their music
for years to come.
Sara & Michael Ralph
Thank you for the band (Trace)who performed at our wedding. We were absolutely amazing!!!!
The feedback from the guests has been fantastic.
We could not have asked for more
Our wedding day was fantastic.
Kate & Matthew Scriven
I've had some great feedback
from the staff and the guests
about your DJs when they
play here.
The Venues Bardons Centre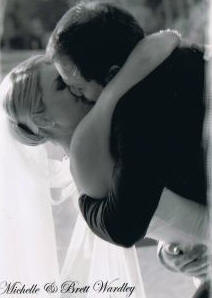 Dear Alan
Thank you for your help in booking the entertainment for our wedding
The String group was amazing for our ceremony and canapť's
And the DJ (Dieter) was awesome during the reception. They all helped to make our day perfect,
so please pass on our thanks
Kind Regards
Michelle & Brett
Please pass our thanks to
the band (Mischief)
for being a part of our wedding. Wayne and I had a great day and the guests really enjoyed the
bands music and entertainment.
The atmosphere they created
was perfect.
Nadine & Wayne Guse
Simon Watson
was absolutely FANTASTIC
and it made the night.
He was very professional, personable with a great
sense of humour and had everybody up dancing.
Everybody asked where we
found him, so we gave them
your phone number.
We can highly recommend him to anybody who is after an AWESOME night.
Angela & Sam Bates
Hi Alan,
Firstly we would like to thank you for your absolutely wonderful service in helping us choose entertainment
for our wedding. Your web site was a fantastic resource and meeting with you
was a pleasure - You were welcoming and professional and more importantly, you knew your bands.
We couldn't have been more happy with the outcome.
Emma & Stewart
Thank you to The String Quartet for the gorgeous music they provided at our wedding day.
It was lovely having them there
They all played beautifully
Emma & Paul McMahon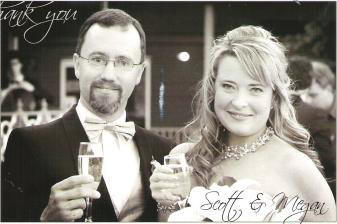 Dear Alan,
Thank you for the wonderful Wedding music supplied
by your DJ (Alex)
all our guests had a great time.
Best wishes
Scott & Megan Crawford
Just a short note to thank you for your assistance in planning the music for our wedding.
I cannot recommend more highly the entertainment you supplied, their performance was excellent,
they were totally professional and delightful people.
Please feel free to use me a as a recommendation for yourself,
your business and the 2 bands. Please pass our my
sincere thanks to both groups.
Colleen Runge (Bride)


Dear Alan,
Chris and I would like to
thank you so much for your assistance and time in organising
a band to play at our wedding. Soul Therapy were simply fantastic and were the perfect touch to
our wedding reception. Many of our friends and family have complimented on their music.
Andrea & Chris Wald
Please pass on our warmest regards and thanks to the
String trio who created such
a beautiful ambience at our reception at the Treasury Hotel. They were superb.
Paul & Wendy Larter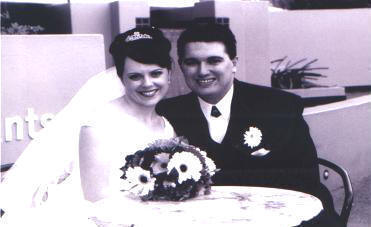 Dear Alan,
Please accept our sincere thanks for helping make our day so special.
Soul therapy was especially great, the band, piano man and DJ
were the perfect combination making our wedding
very memorable.
We hope this photo gives you a
feel of the happy atmosphere
we enjoyed
Thank you so much
Barry and Tammy Stanton


Just wanted to let you know
how happy my wife and I were with Tony Nixon's performance
as MC at our recent wedding.
He made the night,
not over the top,
just the right amount of humour
Steve & Renuka Holman


Alan
Please pass to Neil Bidner,
Thank you so much for making
our wedding day unforgettable.
Your a great entertainer..
Love your work.
Sean & Sarah Gregory
Just a quick thank you for the entertainment you organised
for our Wedding reception.
Simon Watson was brilliant, and Henry (DJ) played a great
selection of music.
They both really set the mood
and made the night.
Thank you once again
Matt & Kathryn O'Rourke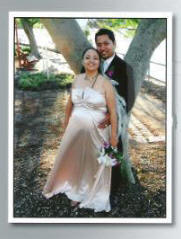 Thank You
The Band (Sex & Chocolate)
were fantastic
Michelle & Pita
I really wanted to thank you
for the fabulous band,
their contribution was magnificent.
Our Wedding reception at the Conrad Treasury
was just sensational
We thank you for helping
to create this special memory
on the night of our lives
Warm Regards
Phoebe & Tim


Thank you for suggesting the
String Quartet &
Piano Entertainer (Roulf)
for our daughters wedding.
It was a well matched combination with the strings setting
the atmosphere for the ceremony and Roulf for lunch & dancing.
Roulf was exceptional and nothing was a problem for him,
he was very helpful,
very professional and everyone commented on how good he was
Thanks Again
Stuart Harrison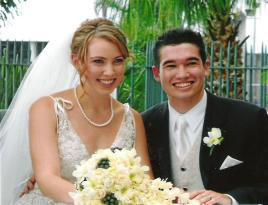 Thank you for providing the fantastic music on our wedding day
Everything we had discussed
went to plan
We appreciated your professionalism
but more importantly your great music. We would definitely book through you for another event
Matt & Sara Lumchee


Boris & I were fortunate enough to have the company of your piano player (Chris) at our wedding
He did a lovely job and should we need entertainment in the future
We will know where to go
Mr & Mrs Li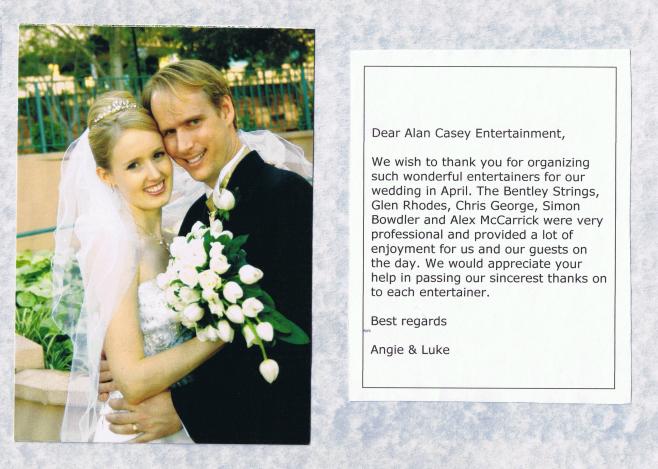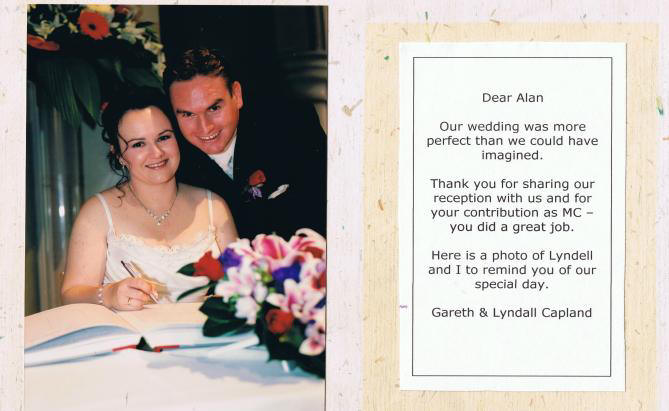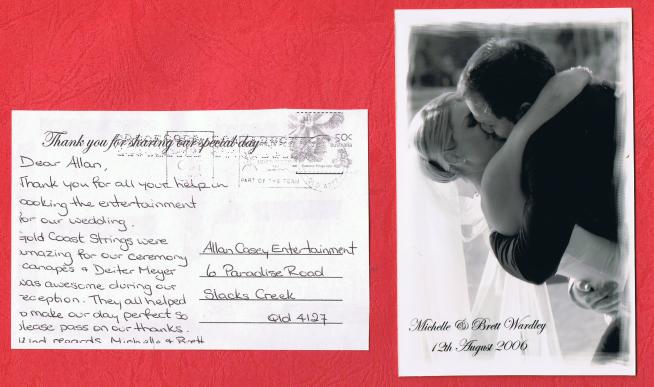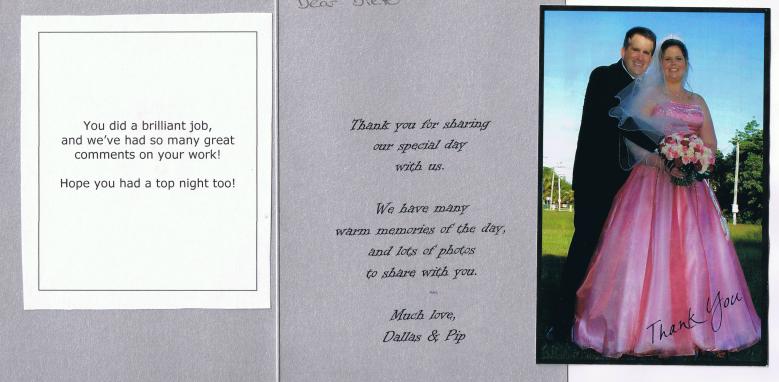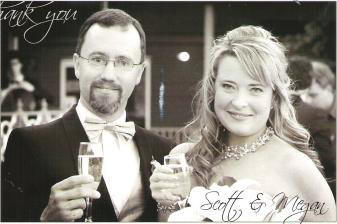 Dear Alan,
Thank you for the wonderful Wedding music
supplied by Alex McCarrick, all our guests had a great time.

Best wishes
Scott & Megan Crawford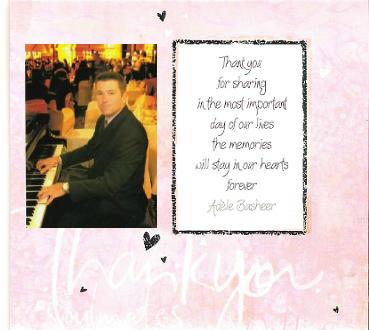 Alan Casey Entertainment Australia
has assisted Brides around Australia for over 25 years
Supplying the best in entertainment.

Bands, DJs, Classical Musicians, Solo Entertainers, Comedy Acts,
Professional MCs etc. to over 30,000 Weddings.
We wish to offer you some thoughts
for making your special day run smoothly and successfully.
Issues to consider when choosing Wedding Entertainment.
Do you want Live Music or a DJ
Maybe a combination of the 2


You may want a Special Act Entertainer
What about Music for the Ceremony


Number of guests?


Budget?


The area available for entertainment?
You want something flexible enough so that everyone attending your Wedding will enjoy.
When planning your entertainment...
Give consideration to the size of the Wedding venue
and the amount of space the act will require.

Remember, you do want some of the dance floor available for dancing! I
f the room is very small or closed in,
donít have something that will blast you out of the room.
Conversely you want something that everyone can hear and see.
So your requirements could change depending on whether you are having 50 or 300 guests.
Donít have the music isolated from the guests, or you will lose the atmosphere. Entertainment should be on the same level, and in the same area as the guests.
Ask the agency where they think is the best place for the entertainment to be set up.
Mezzanine Floors work well for musicians and groups
who are providing background music only.
If you want entertainment as well as music, the performers need to be part of the setting.
If the venue has difficult access for bringing in the equipment,
et the performers know, so that they can allow extra time or manpower to set up.

Entertainment is an area where you get what you pay for.
If you have a limited budget, you are far better off booking a good wedding disc jockey
or a good solo/duo rather than an average larger band.

Take into consideration the age groups of your guests.
You want entertainment to suit everyone
also the overall theme and style of your Wedding.

Alan Casey Entertainment Agency are specialists
and present high quality entertainment to suit all styles of Weddings.
There are six key people at your Wedding
Bride & Groom,
Parents,
Functions Manager,
Wedding Co-ordinator,
Members of the Bridal Party
Plus your MC.

Have one person liaise with the entertainers on the night,
so that your entertainment do not get conflicting instructions,
the best person for this is your MC.
Try to make sure your seating arrangement is well thought out;
you don't want grandma sitting in front of the speakers.
Try to get the biggest party animals in your guest list sitting close to the action
These people will enjoy the music and will be the ones that love to party
Place the older guests far away from the speakers etc as they will want to sit and talk rather than get up and party.

Have the entertainers arrive before the wedding guests so the function is not interrupted
If you are having two different types of music during the function, for example, a pianist for pre-dinner and dinner music and a band for the dancing,
make sure the band is set up well before the guests arrive.
Then later in the night they can start playing at the nominated time.
You may have to pay an early set up fee to cover their time but it is well worth it.
There is an old saying "if you pay peanuts, you get monkeys"
Where possible book high quality entertainment,
Your Wedding is one of the most important occasions in your life
and you don't want to leave this special day to chance.
Try to make sure the musicians/performers are informed of your program and
when your speeches are organised, this way they can set their breaks to optimise
the amount of time they are on stage for you.

High quality entertainment want your event to be a very special memory and will cater accordingly. Great entertainment is an important element in making your event a success, the reception venue, food & drinks + beautiful surroundings, means very little if the entertainment is poorly and the guests are uncomfortable.
The ideal Wedding reception duration is 5hrs e.g.
6pm - 11pm. You can spoil your Wedding by going to long.

Older guests and many of the family will have been with you from mid afternoon
right up to 11pm at total for approx 7-8 hours.
Be aware many guests become tired and wish to depart no later than 11pm.
Sunday Weddings it is wise to finish at 10.30pm
as most guests have to go to work in the morning.
Nothing make you feel like the reception fizzled more than you being the last in the reception hall after everyone has left.
The Bridal Waltz is the trigger for the party to start. "It is important".
Your guests have been sitting eating; drinking & listening to speeches,
your entertainer has been playing dinner music and the mood is mellow,
dessert is finished and now your entertainment is ready to get the party started.

A good entertainer is capable achieving this, however the waltz makes the reception kick into overdrive instantaneously. The bridal waltz is like the referees whistle blowing the start of game on, it is a signal that helps your entertainment and guests move into party mode. Try to make it the last official thing you do because if you serve dessert or make more speeches after the waltz it is sometimes difficult to get the party started again.
Give everyone associated with your reception a running sheet of the nightís proceedings, this way you won't have to chase anyone up on the night.
(I.e. Function Coordinator, Band, M.C. etc)


Helpful Hints

The Entertainment is a very important factor
It sets the whole tone of the event.

Who you book can make or break your special day.

The Agency offers you a Wide Selection
Deal with Wedding Professionals

Book early so availability and choices are better.
Book your Wedding entertainment through
an entertainment agency
The Agency gives you greater security

We know who is good and reliable who is not.

A Band or DJ is less likely to cancel a agency job

Agents know what the band is worth
and will ensure your not overcharged
Plus can organise other entertainers in emergency

Visit our Brisbane Office
Let us help you pick the perfect Entertainment
Appointments available after hours + Saturday mornings
Phone 1300 666 286
How much does a Band/Musicians Cost
Bands vary in cost depending
on quality of the Musicians performing in the Band
Guide only and subject to change
Based on a 4 hour performance
Solo Entertainer Rates
$1000+ for Best in Town
$800+ for High Quality
$650+ for Quality Soloist
$500+ for Good Standard
Band Rates - $$$ Per Musician
$750+ for Best in Town
$600+ for High Quality
$500+ for Quality Bands
$400+ for Good Standard

+ GST (10%) Goods & Services
Government Tax