Alan Casey Entertainment Agency - Australia

Brisbane - Sydney - Melbourne - Gold Coast - Sunshine Coast - Toowoomba - Ipswich - North Coast
New South Wales - Queensland - Victoria

Ph 1300 666 286 International 61 +7 3290 1733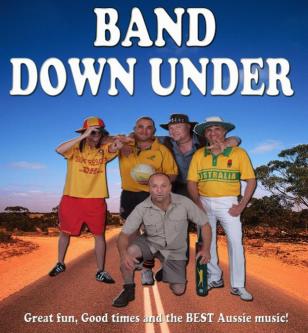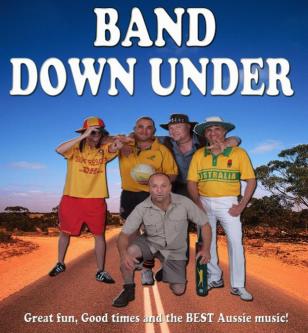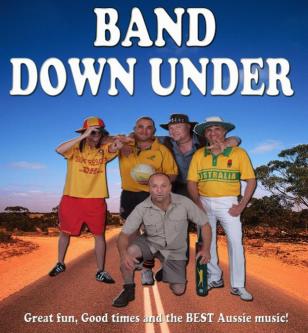 Band Down Under (Sydney) Price on application





G'day everyone!!

Streeeeewth, we have a bloody ripper of a band to tell ya about!!

Band Down Under is a showcase of some of the greatest Australian hits of all time including pop, rock and country, but also Australiana itself!! Band Down Under perform as Australian icons such as: a Surf Lifesaver, Australian Sportsman, Steve Irwin and Crocodile Dundee, you never know who will turn up on the night!! Also with iconic memorabilia such as our very own outback dunny called "Dunny Down Under",

(well, just in case you're in need of the thunder box…you know, gravy bowl)

our mini outback pub called "Bar Down Under", (well, just so I don't have to drink on my Pat Malone) crikey, we even have Joey our Kangaroo on stage (Crikey, isn't she a little beauty)

and with many other classic pieces of Aussie history, well, WE bring Australia to you, you little beauty mate!! With a band of iconic characters hitting the stage, the dance floor will heat up like sand on your feet in the outback sun.

Song List
April Sun In Cuba

Dragon

Like It Like That Guy Sebastian

Are You Old Enough

Dragon

Live It Up Mental As Anything

Be Good Johnny

Men At Work

Living In The 70's Skyhooks

Beautiful People

Australian Crawl

Lost & Running Powder Finger

Blue Sky Mining

Midnight Oil

Message To My Girl Crowded House

Boys From The Bush

Lee Kernaghan

New Sensation INXS

Catch My Disease

Ben Harper

Now We're Getting Some Crowded House

Come Said The Boy

Mondo Rock

One Perfect Day Little Heroes

Computer Games

Mi Sex

Outback Club Lee Kernaghan

Cool World

Mondo Rock
Out Mind, Out Site The Models

Darling It Hurts Paul Kelly

Razers Edge Goanna

Devil Inside INXS

Rain Dragon

Don't Change INXS

Reasons John Farnham

Down Under Men At Work

Run To Paradise Choirboys

Dumb Things Paul Kelly

Shadow Boxer The Angels

Eagle Rock Daddy Cool

Shape I'm In Jo Jo Zep

Flame Trees

Cold Chisel

She's So Fine The Easybeats

Funky Town

Pseudo Echo

Solid Rock Goanna

Get That Jive

Dragon

Soul Kind Feeling Dynamic Hypnotics

Heaven

Eurogliders

Sounds of Then GANGajang

Howzat

Sherbet

That's When Think You 1927

I Got You

Split Enz

Too Many Times Mental As Anything

I Hate The Music

John Paul Young

We Can Get Together Icehouse

If You Leave Me

Mental As Anything

We Gotta Get Out Place The Angels

In The Summer Time

Thirsty Merc

What About Me Moving Pictures

It's Long Way To The Top

AC/DC

Whats My Scene Hoodoo Gurus

Jessies Girl

Rick Springfield

Who Can It Be Men At Work

Khe San

Cold Chisel

Yesterdays Hero John Paul Young

Leaps & Bounds

Paul Kelly

You're Gonna Get Hurt Jenny Morris
Email Us
Phone: 1300 666 286